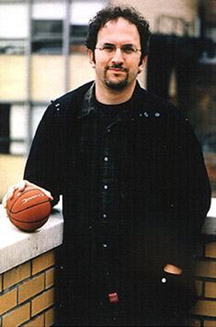 Today's post was inspired by yet another inquiry from a fellow comedy fan. This fan, Loumi, I met on the social bookmarking/networking site StumbleUpon.com. Loumi approached me about a comedy writing interview project. (I was flattered that he even thought of me in the first place.) And I was lead back to Loumi's blog article, a PonderAbout article on outrageous humo(u)r, which gave me the idea for this jam-packed fact-filled post. So today, we will profile, Mr. Robert Smigel, revered comedic writer, best known as the creator and voice behind, Triumph The Insult Comic dog.

I didn't discover Smigel until years into his popularity on Late Night with Conan O'Brien. (At the time, I was an obedient and gullible kid with lengthy homework assignments. Don't blame me! I wasn't allowed to stay up late on a school night. Sheesh!)
...
And what rises from the ashes of rejection? Inspiration!...
Smigel didn't begin in stand-up, like the many other comedians I profile. In fact, his story begins in sketch comedy. Smigel, a native New Yorker, ended up in Chicago and it was there that he began his comedy career, writing and starring in his own improv/sketch comedy group. (He and his comedy troupe buddies were
Second City
rejects.)
And what rises from the ashes of rejection? Inspiration! With that, Smigel and company started "All you Can Eat," a comedy show which gave the stars the platform, contacts (
Al Franken
and
Tom
Davis
), and balls to to try out for
Saturday Night Live
(SNL).
And thus began Smigel's over 20-year reign at SNL. Smigel was hired as a writer on the ever-popular show and is noted for having the longest tenure on Saturday Night Live as a comedy writer (since 1985). Whew!
Smigel (along with
Dino
Stamatopoulos
) developed
TV Funhouse
which then churned out cartoon segments,
"
The Ambiguously Gay Duo
", "
The New Adventures
Of Mr.T
", "
Michael Jackson
", and
the
now
banned
"
Conspiracy Theory Rock
"
Here is where my notes get fuzzy. Somewhere within the SNL years, Smigel came up with Triumph, the Insult Comic Dog, the name "Triumph" coined by John Henson of Talk Soup fame. (Read the Onion Article below for more on that story.)

Smigel is some sort of mad genius. And if you can't appreciate his humor like I do, well, you're probably just sane. That's okay. You'll learn to be craZy like a fox one day.

Be sure to leave enough time watch this 10 min clip, of perhaps Triumph's most famous man-on-the street Conan sketch:




If the link above doesn't work, you can always watch this
popular video from the Milk and Cookies website.




Remember, Loumi, the man who helped inspire this post? Well, he also authors another comedy related site, called Comedy Mashups that you comedy fans should definitely check out.

More Links:


Milk and Cookies
is a dedicated comedy website that has several
Robert Smigel produced/written shows
from SNL and other series. For a laugh, please check them out!
*+*+*+* If you fully digest this post on ROBERT SMIGEL, there's one AMAZING way to do so--GET FREE UPDATES BY
EMAIL or RSS
.